A trip to Kenya, situated on the equator, offers a wealth of opportunities and is a perfect platform for an unforgettable, inspiring adventure.
It's a combination of a fascinating safari, breathtaking vistas, and encounters with remarkable local people.
Between the East Indian Ocean coast and Lake Victoria in the west, with our professional staff and local guides, you will meet the people and organizations creating local, sustainable solutions to overcome poverty, disease, water pollution, and other existential challenges and experience their initiatives firsthand.
You will discover the indigenous tribes and their fascinating history and culture, and watch wild animals to learn about their lives in their unique ecosystems.
Why is it called TOP eXperience? During this tour, you will:
Learn about tea and coffee industry from #farm to #cup by meeting involved parties from the old way and the new ecosystem being put in place with TOP support
Meet with local entrepreneurs and experts in technology, upcycling, permaculture, medicinal herbs and more
Encounter groups of women who have been empowered and have improved substantially their income
Visit schools masters and pupils who are reducing running costs, bringing revenues thanks to ESD principles, and creating a good relationships between communities in conflict
Participate to business conference on data excellence, blockchain, industry 4.all and mixed farming
Contribute with your know-how and experience
also have time for  a safari

Be inspired. Be part of the change.
Temporary program:
| | | | |
| --- | --- | --- | --- |
| Date | Description | Accommodation | Remarks |
| 20/2 Thursday | arrivals | PrideInn Nairobi | |
| 21-22/2 Friday & Saturday | KWEN at Bomet | tbd | women empowerment, story of tea |
| 23/2 Sunday | Gatanga Holistic church,  Yard activities | PrideInn Nairobi | Gatanga church morning service, visit of TOP Center |
| 24/2 Monday | Maruge School | PrideInn Nairobi | Inauguration of TOP Center. Peace education, visit to Masai authentic village whose children go to this school |
| 25/2 Tuesday | Karura forest | PrideInn Nairobi | Visit of this TOP center & elephants orphan center |
| 26-27 Wednesday-Thursday | Gatanga – YARD | PrideInn Nairobi | Story of coffee, meeting with planters, visits plantations, factories |
| 28/2 Friday | Business conference |  PrideInn Nairobi | Business Conference around govern by value, blockchain, ecosystems and industry 4.all. Meeting with local entrepreneurs, |
| 29/2 Saturday | Safari |  PrideInn Nairobi | Safari around Nairobi, evening wrap up session |
| 1/3 Sunday | Departure | | |
Bomet
Janeth Siele – Empowered by KWEN to save and invest: Janeth is a widow who lost her husband at an early age after her marriage. She felt neglected by the society and was not able to feed her family. Janeth had an idea of poultry farming but lacked knowledge on how to implement that idea. When she heard of KWEN through a training held at Kaboson girl's school, she was very much interested and asked the field officer to visit and train their group. This table banking concept has helped her to learn a lot in terms of livelihood project.
Maruge school:
Maruge School is located close to the border between Kajiado and Kiambu Counties. Kajiado County is found in the Great Rift Valley and is largely occupied by the Maasai community. They are pastoralists and largely derive their livelihood from livestock keeping and rearing. On the other hand the neighbors in Kiambu County are largely farmers and derive their livelihood through agriculture. The two communities sometimes find themselves in conflicting situations over the use of the natural resources.  As part of the schools wider scope, conflict resolution through education and children is greatly emphasized.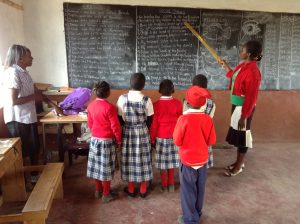 Karura forest:
visit to TOP Kenya centre in the city: Karura Forest Primary school situation inside the forest in the city where you'll be received with a warm herbal tear under the "Tree of Wisdom". You will have the opportunity to sample " bitter herbs" and appreciate their healing or medicinal values. Admire the upcycling of food by pupils for sustainability as you enjoy the fresh air at the forest in the city centre.
Justus
Justus participated to the first Connectedness & Leadership Course in February-July 2017 and first learned about becoming a prosumer and building a green wall. Since then, he has been able to sell to his community vegetables and train them on how to build green walls and the use of permaculture.
This is an inspiring example of what people can do, when focusing on their own resources and Tapping their Own Potential.
Fee: $2500 in double room ($2750 in single)
Deposit: 50% upon order, 100% to be paid not later than one month before, through paypal or bank transfer. Email:philippe.scheimann@gmail.com
Note: we reserve the right to make some changes in the itinerary.
WHAT'S INCLUDED IN THE COSTS
Meet & Assist upon arrival & departure

Daily touring as per the itinerary

MEALS: breakfast, lunch and dinner – drinks to be paid direct

"

4"

star Hotel or special appartements Accommodation for 10 nights and 11 days

Professional English speaking safari guide

James Otieno, TOP Kenya group leader & TOP Global co-founder

Transportation in a deluxe air conditioned motor-coach & dedicated coach for safaris

Entrance fees to all sites mentioned in the itinerary

Departure tax, land taxes and basic tips

Mineral water per person per day

TOP eXperience certificate
WHAT'S EXCLUDED IN THE COSTS
Any item not mentioned above

Personal expenses.

Travel Insurance

Visa ($50 to be paid at the entrance)
By Tapping Our Potential, We Transform Our Problems
using Technology Of Peace